About Our Estate Planning & Bankruptcy Attorneys
When you are faced with legal matters in the Murrieta, Temecula, or Menifee, CA areas, put your trust in the team at Ashcraft Firm. Our team of professional and experienced attorneys are always working in your best interest to create peace through the legal system. Our suite of legal expertise covers a range of estate planning, trust administration, bankruptcy, and many other practice areas. If you are in need of legal services, our team can help guide you through every stage of the process. We strive to make sure our clients have the guidance they need to achieve their objectives and obtain the best results.
Whether you need legal help due to personal or business-related issues, our team of estate planning attorneys and bankruptcy attorneys have the resources and experience you are looking for. We are well-equipped and ready to represent your case. Contact the team at Ashcraft Firm today for more information or to get started on your case.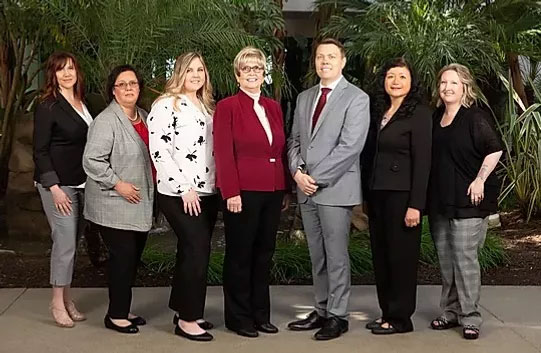 Our Purpose
Our purpose is to create peace, not just peace of mind, actual tangible peace through the legal system. Our team is devoted to creating an experience that lets our clients breathe a sigh of relief and creates a lasting difference in their lives and the lives of their loved ones.
Greg is an Estate Planning attorney in the firm. When he is not helping families create, implement, or execute plans to protect his clients' assets and family members, he is busy with four children. He and his wife, Rachel, love music and met at Murrieta Valley High School when they were in choir together. They still sing regularly at church where Rachel is the church's choir director. Their kids have followed in their musical footsteps and demand that their parents play the music from Hamilton while the whole family sings the lyrics at the top of their lungs.
---
Pat is the founder of the firm. The Ashcraft Firm is truly a family business: Greg is Pat's son. She currently heads the Probate and Trust Administration Department, but practiced bankruptcy law for many years. She has been licensed in California since 1983. In 2019 she temporarily retired but discovered that she loved working too much to retire. She returned to the firm full time in 2020.
Pat graduated from Thomas Jefferson School of Law in 1983 and was a Psychology major at the University of Houston. Greg is her only child.
---
Joselina has been a bankruptcy attorney for many years. She loves the feeling of relief and gratitude from clients after they've filed for bankruptcy and completed their cases.
Joselina graduated from Cornell University and California Western School of Law. She started working full time for the Ashcraft Firm in 2020. She has also had her own estate planning and probate practice in San Diego County, and worked on various other civil matters as an independent contract attorney. When not working, Joselina enjoys spending time with her husband, four children, and her large extended family.
---
Michelle is the firm's Senior* Paralegal. She has an AS in Paralegal Studies and is a certified paralegal. Michelle also has an AA in Behavioral and Social Sciences. She primarily assists with our bankruptcy cases but also contributes to other matters within the office when needed. When you call the office to start the bankruptcy process, Michelle will most likely be the paralegal you speak with. She will gather your information and the documents necessary for the attorney to determine what form of bankruptcy you qualify for and will continue to assist you throughout your case along with the other staff members. Michelle is the mother of two children, Hannah and Casey, which she is rightfully very proud of. She also has two fur babies, Dottie and Teddy. If you ask Michelle who her favorite child is, she will tell you "Dottie, hands down!"
*Disclaimer: By Senior, we mean Michelle has been here the longest, not that she is old.
---
Kelsey is a paralegal with the firm who assists clients with their estate planning needs. She has been with the firm since 2017. She has a bachelor's degree in psychology with a minor in global studies and is a licensed Notary Public. She met her husband Aaron in high school; together they have a daughter named Charlie and two fur babies, Bobby and Olivia. In her free time she likes to read, watch movies, and spend time with her family.
---
Sarah is an administrative assistant with the firm. She works alongside Greg helping clients through the probate and trust administration process. She works diligently to ensure that all of our clients are shown compassion throughout the duration of their case. Sarah is also a licensed Notary Public and will most likely be the person that notarizes your documents for you!
Sarah has two sons that she is very proud of. When she isn't at work, she is most likely spending time with her family, they mean everything to her.
Her favorite MLB team is the Anaheim Angels. She also enjoys reading, making soup, and men in kilts.
Contact Our Bankruptcy & Trust Administration Attorneys Today!
If you have browsed our blogs and videos and still have questions for our team, do not hesitate to contact us. Our
bankruptcy
,
estate planning
, and
trust administration
attorneys have years of experience under their belts and can assist you with any questions or concerns you may have. No matter the precise nature of your legal requests, you can rely on our staff members to provide contemporary counsel at a highly competitive rate. When you need a reliable attorney in Murrieta, CA and the surrounding areas,
contact
our team today.